Join our school
Transition information for students joining us in September 2021
You can find out more on our transition support page.
Open Evening
This will be held on Thursday 23 September 2021, from 3.30pm to 7.30pm.
Recognising that the pandemic is still very much with us, and that we have a responsibility to safeguard everyone involved in our open evening – visiting children, parents/carers, our staff and students – we have planned an open evening with two options this year:
Option A – Face to Face Open Evening with safety measures
Visit our Eventbrite page to book a one-hour slot to visit school between 15.30 and 19.30.
To reduce crowds in the building, bookings will be restricted to three people per Year 6 child.
We will welcome you to school at your pre-booked time, and you will join a tour around the school led by a member of our Senior Leadership Team, giving you the opportunity to see different subjects in action, meet our teachers and students, and to ask lots of questions. Tours will last around an hour.
At the end of the tour, our Head of School and members of our Year 7 team will be available to answer any further questions.
We would encourage adult visitors to school to wear a face covering when in the building.
Option B - Remote Open Evening
We understand that not everyone will be able to attend our face-to-face event. We have therefore created lots of resources, most of them videos for you to learn more about our school. These can all be accessed below. If you have any questions about any of the information in these videos or in our prospectus, please email us: enquiries@westfield.chorustrust.org
A VIDEO ABOUT OUR SCHOOL
Below is the first of our videos about our school:
You are also welcome to watch the transition videos we made for last year's Year 6 students who were unable to come and visit the school.
videos about our subjects & facilities
We are constantly adding videos about life at Westfield:
modern foreign languages (mfl)

admissions brochure
View by clicking on the image below: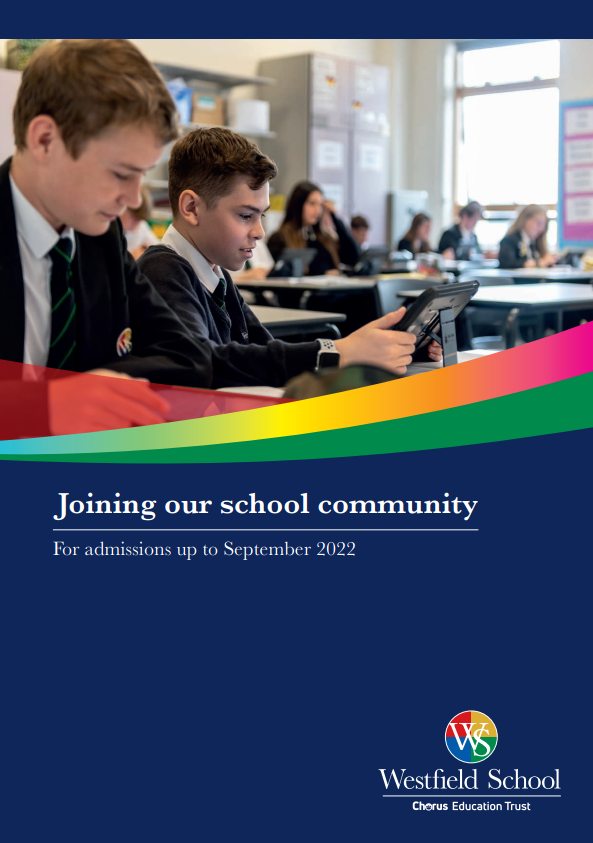 Sign up for updates
We will keep adding more useful resources to this page.
Don't miss out!...sign up for regular updates from us. You can sign up here.
Videos about our school
We will soon be publishing videos about our school and the subjects you can study here.
In the meantime you are welcome to watch the transition video we made for last year's Year 6 students who were unable to come and visit our school.
Ask us a question!
If you have individual questions you would like to ask us, please send your question to: