Return to school
Introduction
Providing that local and national advice remains that it is safe to do so, we will begin to welcome small groups of Year 10 students back into school for face-to-face learning in English and maths from Monday 15th June.
You can either read the information on this page or watch this video which covers the same information:
What is happening?
Each student has been allocated to a small group, the details of which will be shared directly with students and their parent/carer via Weduc. Each group will attend school on one day each week, and each group will have a different start time to allow for a socially distanced entrance and exit to the building.
There are 16 groups, each one has been named according to the day and time that students in this group should arrive at school for their weekly session: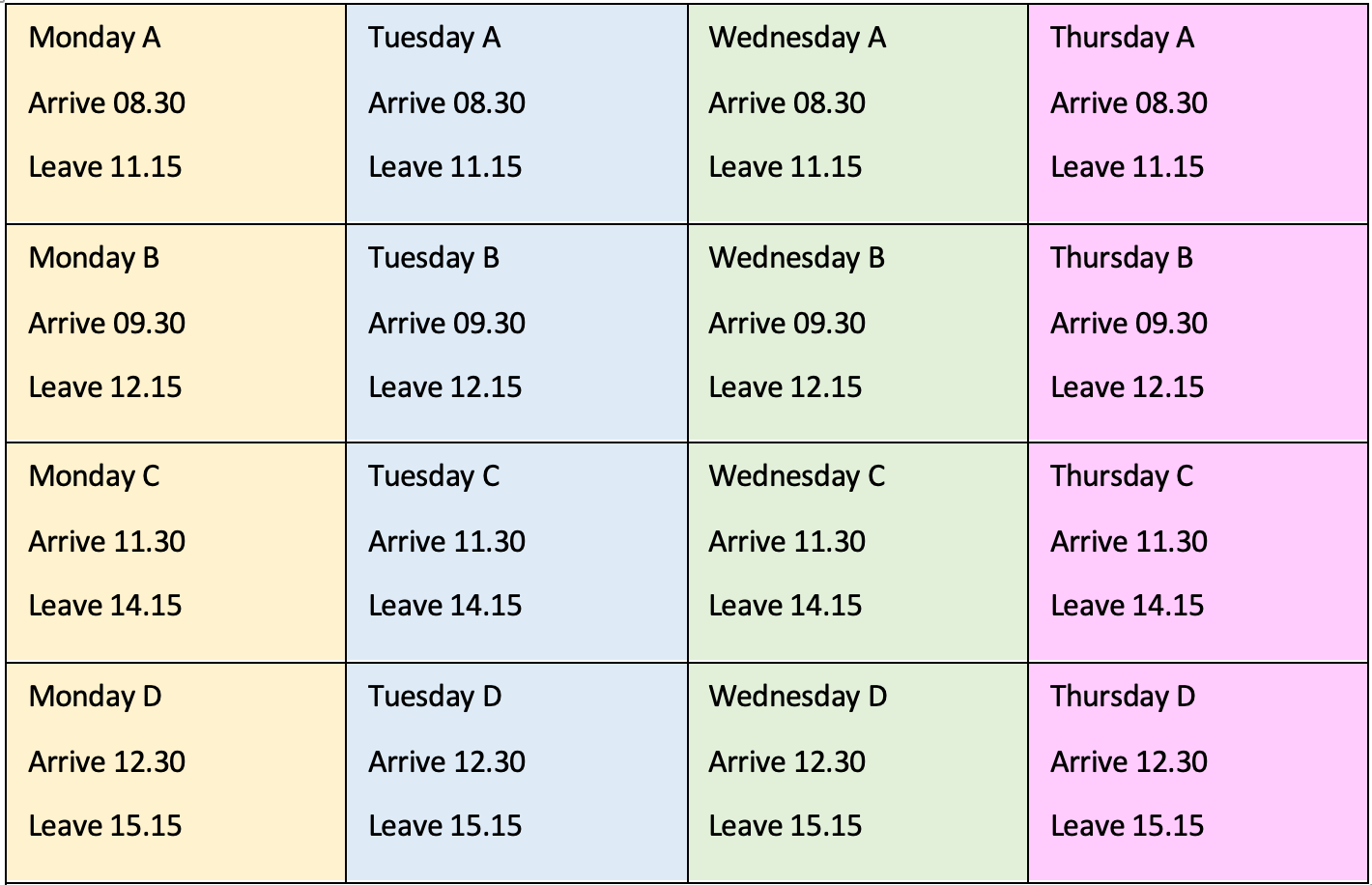 Before you come to school
Eat breakfast. The canteen will be closed.
Please make sure you are equipped. Bring your bag containing:

Pencil case with a pen, purple pen, calculator.
The folder of work we'll give you at your first session.
Bottle of water – water fountains & vending machines in school cannot be used.
Your planner.

You do not need to wear school uniform.
Consider what time you need to set off if your journey will be different to normal.
Travelling to school
Avoid public transport if possible.
Observe social distancing if walking with a friend.
Arrive at your scheduled time.

If you arrive too early you'll have to wait in a socially distanced queue until you are invited into school.
If you arrive late you'll miss crucial learning and disrupt others in your group.
Arriving at school
Arrive at the swimming pool entrance to school and queue up observing social distancing.
You will be invited to enter the building and register one at a time.
Walk directly to the toilets to wash your hands before going directly to your designated desk and teaching space. We will tell you which toilets to use and which learning space to go to.
In your teaching space
You will be directed to a large teaching space – either the main hall, activity hall or library.
Sit at the socially-distanced desk you have been allocated.
You will be taught a 1 hour English lesson followed by a 1 hour maths lesson.
This will be followed by a 30 minute tutorial session, supporting you in work set by other subjects.
We've tried to allocate you to your normal class teacher. This hasn't always been possible.
Ask the teacher if you want to go to the toilet.
Behaviour and Health & Safety
As ever, we will have the highest expectations of your behaviour and co-operation with health & safety expectations in school.
Safety is paramount and this is precious learning time.

Follow instructions first time, every time.
Try your best without disturbing others.
Listen to the person who is meant to be talking.
Observe 2 metre social distancing at all times.
Do not behave in a way that would put yourself or others at risk, or cause anxiety or upset to others.
Any student who chooses not to comply with behaviour and health & safety expectations will be asked to leave their sessions and parents/carers will be contacted to arrange for this student to go home.
If there is a fire alarm while you are in school:
Exit the building by your nearest fire exit, calmly and sensibly.
Maintain 2 metre social distancing where possible.
Line up on the astro-turf, remaining in your teaching group as directed by your teacher.
Ensure you maintain social distancing while you wait for further instructions.
Leaving to go home
You will be dismissed one at a time from your teaching space.
You will be asked to wash your hands.
Leave via the swimming pool exit.
Take your folder with you to complete work at home.
Travelling home
Please observe social distancing on your journey home.
Avoid public transport if you can.
Remote learning
Remote learning will still be the main way you'll access your learning for 4 days a week.
We're moving to using Microsoft Teams to support remote learning as it offers better teacher explanation and more dialogue between students and teachers.
Please download the 'Microsoft Teams' app for free before your first session in school and, if possible, bring the smartphone/tablet you've downloaded it to.
Thank you for carefully reading this guidance. We look forward to seeing you soon.