Return to school
REOPENING TO ALL STUDENTS FROM W/C 8TH MARCH
Following the Prime Minister's announcement on Monday afternoon regarding the easing of lockdown measure in England, updated guidance has been published for the reopening of schools in England to all students in the week commencing the 8th of March. Having taken time to study the guidance and plan accordingly, we are now in a position to share our plan for reopening school. Please watch the video, or read the detail provided below
STAGGERED REOPENING & LATERAL FLOW TESTS
The revised government guidance makes it clear that in large secondary schools, like Westfield, a staggered return will be necessary to allow all students whose parents/carers consent for them to be tested to have a lateral flow test before returning to school, providing their test is negative.
Once all students have been tested they will return to school and attend every day as normal.
A message containing a link to an online consent form has been sent to all families. We would remind families with more than one child at Westfield School that they will need to complete a consent form for each of their children.
The deadline for completing the consent form is 1.00PM on Monday 1st March.
We will invite all students whose parents and carers consent for them to be tested, to come into school for to take a Lateral Flow Test the day before they return to the classroom. Students will return to the classroom on the morning following their test, unless we inform them that they have returned a positive test for COVID 19.

We will be unable to provide a lateral flow test for any student for whom we don't receive consent.
The time of your first test will be confirmed to you in a message next week.
Following the first test there will be a further two tests in school, which we will withdraw students from a lesson to take. Guidance specifies that each test should be taken between 3 and 5 days apart, and we will do all we can to ensure testing takes place within the specified timescales
Covid testing in school
Watch this video from Mr Gardiner about how we will run testing in school:
YEAR GROUP BUBBLES & CLEAN HANDS
The guidance requires us to continue to operate in year group sized bubbles, to prevent students in different year groups from mixing as far as possible and to facilitate regular cleaning of hands.
GETTING READY TO RETURN
BEFORE SETTING OFF
Before setting off to school each morning, check you have your school backed packed with all the necessary equipment – your pencil case, calculator, planner, some sanitiser, a water bottle and, crucially, one or more face coverings. And please set off in time to arrive at school before the second bell at 08.45 AM.
If you have lost your planner, please buy one on ParentPay for £3 so that it can be collected on your return to school.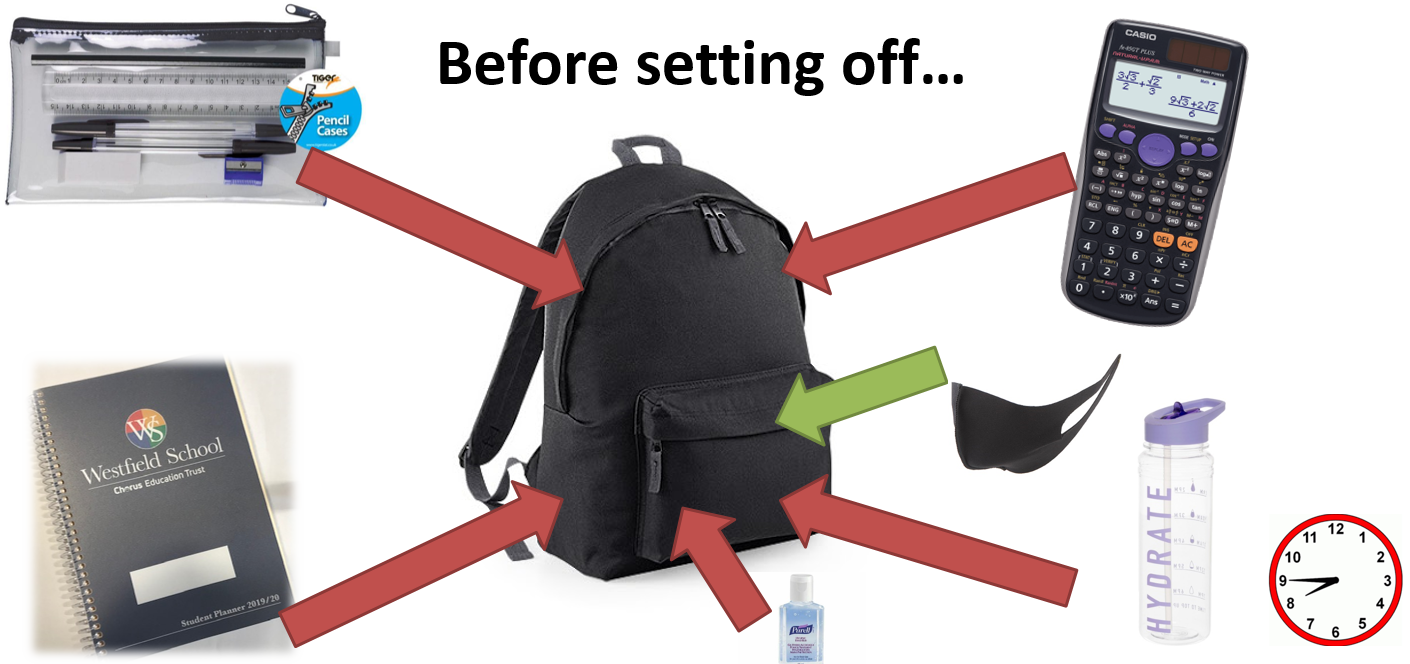 UNIFORM
Please ensure you're wearing your full uniform:
All black footwear.
Black school trousers, school shorts or knee-length school skirt.
White shirt.
School tie.
Westfield jumper or Blazer.
Please don't wear hoodies or jumpers on the school site – we'll ask you to take them off as you arrive to site, and they will be confiscated if they're worn during the school day outside of PE lessons. If the weather is cold – please wear a coat.
Please don't wear footwear that isn't all black, and please don't wear jeans, leggings or Jeggings.
If you arrive in non-uniform it is our policy provide clean spares for you to change into in our ready room.
JOURNEY TO SCHOOL
Please make the journey to school on foot or on a bicycle if possible.
If you do need to use public transport, please wear your face covering, and socially distance where possible, particularly from students from other year groups.
FACE COVERINGS
Staff, students and visitors will be expected to wear face coverings in school nearly all of the time from our return until the Easter holidays at the earliest.
Teachers will not wear face coverings when teaching as they will be able to stand a distance of more than 2 metres from their class.
Students, staff and visitors will all be required by the government to wear their face covering on corridors, in the dining hall when not eating and in classrooms.
Face coverings won't need to be worn outside, when sat eating in the dining hall or in PE lessons.
This guidance will make lessons more difficult and uncomfortable for all of us. We are, however, committed to following this public health guidance, and would like to thank all our students in advance for their support with this.
We will be contacting the parents/carers of any students who do not comply with requests to wear their face covering when required, in the same that we will continue to contact parents/carers of children who repeatedly request replacement single-use face coverings, which are very costly to school and the environment.
We suggest students bring with them fabric face coverings which can be easily washed. Please don't wear masks that may be deemed offensive, and please be aware that some of our staff and students are exempt from wearing masks, and have been issued with an exemption pass and lanyard for this reason.
More guidance on wearing face coverings can be found on this page.
ARRIVING AT SCHOOL
We ask our students to arrive at the ready gate between 08.15 and 08.40 where we'll welcome you and ensure you are ready for the day ahead, making sure uniform is worn correctly and that phones and earphones are put away, and not seen or heard in school during the school day.
We'll continue to open both front gates to school to allow for greater distancing as students arrive.
We will require students to enter the building via their year group's wing, remembering to put on their face covering as they enter. Students may prefer to remain outside until the first bell sounds at 08.40.
If students do come into the building before form time, they should remain on their year group wing/corridor. Where possible, form teachers will allow students into form rooms before the first bell.
We'll continue to open the canteen for breakfast club from 08.00. Remember this is the only time of the day when the canteen is open to mixed year groups – students will be require to sit and eat breakfast at the table designated for their year group.
IN CLASSROOMS
We'll continue to ask students to clean their hands as they enter and leave each teaching space and require students to sit in the designated seating plan. Seating plans have proved invaluable in tracing close contacts on the occasions when we have had confirmed cases amongst members of our school community.
Teachers will take off their face covering to teach and will remain at 2 metres. They'll put their face covering on if they need to approach student desks to offer support or to give out rewards.
MOVING BETWEEN LESSONS
Students are asked to move calmly and sensibly between lessons, keeping to the left and wearing a face covering. Students may wish to go outside when making their way between wings, giving them an opportunity for fresh air and some brief relief from wearing a mask. Toilets are open for students to use at lunch time and between lessons.
TIMETABLES
We will issue all students with a new copy of their timetable on their first day back in the classroom. While most students' timetables haven't changed, we know it will be important to give everyone a reminder and to ensure timetables are in student planners.
BEHAVIOUR
We will continue to reward positive behaviour in line with our Positive Discipline behaviour policy, and will maintain our high expectations of behaviour in the classroom. We will continue to sanction students who choose not to meet our high expectations.
In class expectations:
Arrive on time, fully equipped, in uniform and ready to learn.
Try your best without disturbing others.
Complete class work and home learning to the highest standard.
Show pride in your presentation.
Listen to the person who is meant to be talking.
Follow instructions, first time every time.
Likewise, our expectations outside the classroom remain the same.
Out of class expectations:
Be polite and kind to everyone.
Wear full school uniform correctly at all times (see uniform policy).
Follow instructions, first time every time.
Respect the environment and the school site, e.g. littering, chewing.
Stay within designated areas at social times.
Walk around the school sensibly and quietly, always arriving to lessons on time.
And in addition we will continue to expect students to wear face coverings, remain at 2 metres distance where possible, and would remind students to never, ever behave in a way that would bring concern, anxiety or worry to others at this difficult time.
LUNCHTIMES/PARENTPAY
We will continue with our split lunches and ensure that students are separated in the dining hall.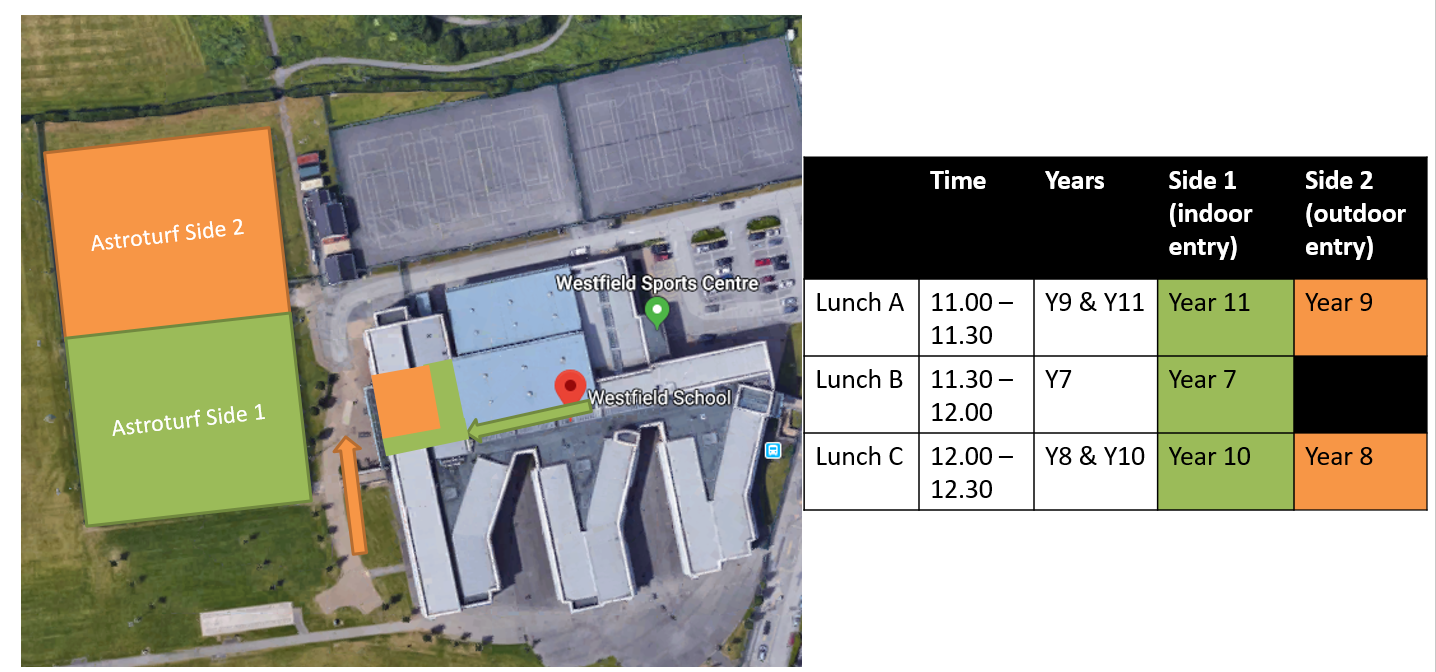 We would remind parents and carers that dinner money still has to be put onto student accounts via ParentPay. Moreover, replacement ties and planners can now also be purchased on parent pay – we'd encourage to do this before you return to the classroom if you have lost your planner or tie.
ATTENDANCE
It is essential that all students attend school on time every day once their year group returns to school so that we can make the most of our return to the classroom.
The only exception to this would be if you are ill, have tested positive for or have symptoms of COVID or if someone in your household has symptoms of COVID or has had a positive test result, in which case the existing guidance on self-isolation still apply.
ATTITUDES TO LEARNING
We see the rest of this school year as a really exciting opportunity for all our students.
Our students all recently received your latest Attitudes to Learning reports. It was very difficult for our teachers to make an accurate judgement of the attitude to learning students showed when working remotely. Some students were delighted with excellent average scores below 2, and others were disappointed with scores that were not as good as their previous reports.
The important thing now is to get back into the classroom and to ensure an exceptional attitude to learning in each lesson. This in turn will ensure your ATL score increases by the time we next give grades at the end of March. With right attitude, we can all build on our remote learning and work towards achieving incredible things!