Return to school
Westfield School will re-open to all students in September 2020.
Please view this video, or read the following information regarding our plans to safely re-open to all our students.
The plans outlined both in this video, and on this webpage, are based on guidance for reopening issued by the government on July 2nd 2020. We expect further guidance to be issued over the coming weeks, and will therefore issue further communications in August to update you on our reopening plans.
Summary of government guidance for secondary schools
The guidance provided by the government is very detailed. To summarise the most important points:
Secondary schools should teach all students in all year groups a full curriculum, every day. There should be no 'rota system'.
Secondary schools should do as much as they can to prevent the spread of the virus by operating in year-group sized bubbles.
Where possible students in different year groups should not mix with each other.
Schools should ensure students regularly clean their hands and that general cleaning of the school is regular and effective.
Getting ready to return
Uniform
The government guidance is clear that schools should operate their normal uniform policy from September. Please ensure you attend school on time, every day in full uniform: a white school shirt, school tie, Westfield blazer or jumper, plain balck school trousers, knee-length school skirt or tailored school shorts, and plain black footwear.
Equipment
Please ensure you pack a school back with all the equipment you need. This includes:
A pencil case. We will provide basic stationary to all students in September.
A scientific calculator.
Your planner. We will issue new planners in September.
A bottle of water. For hygiene reasons our water fountains cannot presently be used.
A small bottle of hand sanitiser if possible.
Your journey to school
Please walk or cycle to school if possible.
If you do have to use public transport, you will need to wear a mask. You will also need to socially distance if possible. If this is not possible, please sit with people from your household or others from your year group.
The current government guidance states that all face coverings must be removed when students arrive at school. Disposable masks will need to be carefully removed and thrown away in a bin specific for that purpose. Non-medical fabric masks will need to carefully removed and placed in a sealed plastic bag inside your school bag. It is important to clean your hands after removing masks.
Guidance on safe wearing of masks can be found here: https://www.gov.uk/government/publications/how-to-wear-and-make-a-cloth-face-covering/how-to-wear-and-make-a-cloth-face-covering
Ready Gates
The Ready Gate is open from 08.00 to 08.45, but please aim to arrive between 08.15 and 08.40 to ensure you do not have to wait for a long time on corridors for form time to begin.
At the ready gates, we'll welcome you into school, check you are in full uniform, and fully equipped. We'll also ensure mobile phones and earphones are put away. The 'Ready Room' will remain open to ensure any uniform or equipment issues are dealt with at the beginning of the day, before learning starts.
From September, we will open both front gates to school to allow for better separation and dispersal of students as you arrive.
Before form time
Once you arrive on site you will either need to remain outside in area designated for students in your year group or, if you go inside, you will need to go directly to the corridor or corridor that will be your year group base.
Year 7 - Arts and Languages corridor
Year 8 - Humanities corridor
Year 9 - Science and Technology corridors
Year 10 - English corridor
Year 11 - Maths corridor.
Once you arrive at your year group's corridor, you will need to remain there until the start of form. This is to ensure we minimise mixing between year groups.
Where possible form teachers will allow you to go into your form room early, where you'll be able to read, revise or talk with friends. Pastoral managers and Heads of year will supervise year corridors and be there to support you each morning.
Library
Unfortunately we cannot open the library to every year group every day. Therefore, the library will open for a different year group to use each day:
Monday – Year 7
Tuesday – Year 8
Wednesday – Year 9
Thursday – Year 10
Friday – Year 11
Breakfast
We will still run our breakfast club each day.
As this is a mixed-year group provision, you will need to enter through one door and join a socially distances queue. Once you've bought your breakfast you will either need to eat it at a table designated for your year group, or go outside to eat. For hygiene reasons food cannot be eaten in classrooms.
Entering classrooms
Clean hands - when you enter every classroom in the school, you will need to clean your hands using the sanitiser we will provide, or your own if you have brought some with you.
Seating plans - every teacher will have a seating plan for every class. This is to ensure we can support the 'track and trace' system if a student in your class should test positive for Coronavirus. You will need to sit in the seat allocated to you by your teacher.
You will need to remain in that seat during the lesson, listen hard and work hard, before cleaning your hands again when leaving the classroom.
Inside classrooms
The guidance recommends that when a teacher is teaching a class they should remain at 2 metres distance. Because of this, some classrooms will look different to usual. Desks will be in rows where possible and pushed back, creating a larger area at the front of the class. Teachers will still be able to move around the class to help you with your work or to give you reward stamps, but won't be able to sit with you to help you with your work for long periods of time.
Moving between classrooms
You will not spend all day in the same classrooms. When moving between classrooms at lesson changeover, or after lunch, it is important to do so calmly and sensibly. We will put in place a 'keep left' rule to help safe movement around site. You will still be able to go to the toilet at lesson changeover.
Catching up
Even though many of you have worked really hard at home, we understand you will be keen to catch up on your learning. The best way you can do this is by attending school on time, every day, showing a great attitude to learning in lessons and completing all your home learning.
Period 6 (year 11 only)
We recognise that the year group for whom catching up is most important will be Year 11, as they have missed over a term of learning in school during their preparations for examined courses. From September we will therefore run a Period 6 lesson for all Year 11s. Period 6 will:
Cover all the subjects each student studies.
Be every Year 11 students' timetable, every day of the week.
Be compulsory – this is part of the school day.
We do not want Period 6 to be seen as a punishment. It is an opportunity! We want to support all our Year 11s to learn and achieve the best grades they possibly can.
Curriculum and Timetables
All students will be taught a full timetable. The only difference will be that you may have more double lessons on your timetable. We've done this deliberately where it has been possible to reduce the amount of times you will move class in a day.
You may also notice some changes in practical subjects, where it won't be possible to do practical lessons as normal in the first few weeks owing to health and safety requirements.
Behaviour expectations in class
Our in class expectations remain the same, and we will continue to reward students, and when necessary apply sanctions in line with our policy. These expectations are more important than ever as we all work hard to catch up on lost learning and work together to create a safe environment.
Arrive on time, fully equipped, in uniform and ready to learn.
Try your best without disturbing others.
Complete class work and home learning to the highest standard.
Show pride in your presentation.
Listen to the person who is meant to be talking.
Follow instructions, first time every time.
Behaviour around the building
Our out of class expectations remain the same. Again, these are more important than ever to support us all to feel safe in school.
Be polite and kind to everyone.
Wear full school uniform correctly at all times (see uniform policy).
Follow instructions, first time every time.
Respect the environment and the school site, e.g. littering, chewing.
Stay within designated areas at social times.
Walk around the school sensibly and quietly, always arriving to lessons on time.
Behaviour policy updates in response to coronavirus
In line with government advice, we've made amendments to our policy with new rules relating directly to Coronavirus. The full list of amendments can be found in our behaviour policy. But in summary, they say:
Where possible remain 2 metres from students in other year groups.
Students must not behave in a manner that bring concern, anxiety and worry to others. This includes: imitating the symptoms of COVID-19, threatening others with not adhering to social distancing, threatening to cough, sneeze or spit.
Changes to the school day
Removing break time - the biggest change we are making to your school day is taking out break time. We are taking out break because this is the only part of the school day where we will not be able to ensure year groups don't mix together.
Earlier end to the school day – because we are taking the 15 minute morning break time out of the day, lunchtime will move to earlier in the day and students in Years 7 to 10 will finish school at 14.30.
Revised School Day Timings
Time
What?
08.00 – 08.45
Arrive at school
08.45 – 09.00
Form time
09.00 – 10.00
Lesson 1
10.00 – 11.00
Lesson 2
11.00 – 12.30
Lesson 3
11.00 - 11.30
Y9 & Y11: Lunch
11.30 - 12.00
Y7: Lunch
12.00 - 12.30
Y8 & Y10: Lunch
12.30 – 13.30
Lesson 4
13.30 – 14.30
Lesson 5
14.30 – 14.45
Break
Year 11 only
14.45 – 15.45
Lesson 6
Year 11 only
Lunch times
To minimise mixing between year groups at lunchtime, we will divide the dining hall and AstroTurf in two. Students in Years 11, 7 and 10 will enter the dining hall from inside the school building using the stairs from main deck down to the well. They will eat in the green area as shown on this diagram, and will use the half of the AstroTurf coloured green on this map if they want to play outside.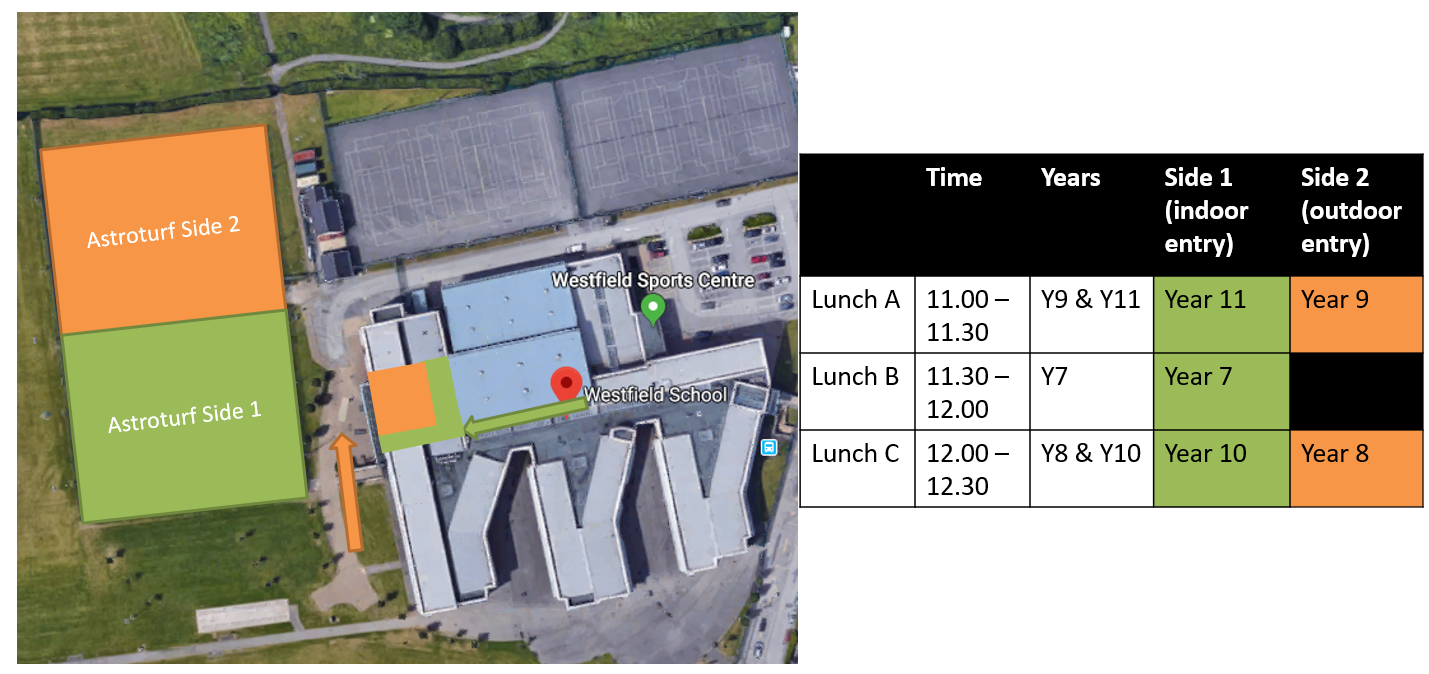 Students in years 8 and 9 will enter the dining hall from outside. They will eat in the section of the dining hall coloured orange on this diagram, and may play sports in the side of the AstroTurf coloured orange.
Paying for food
All students will clean their hands with sanitiser provided before using the finger-print scanner to pay for their food.
Unfortunately, to manage the risk in school we will no longer be able to use the 'cash-loaders' to put money onto accounts to spend in the dining hall. We will therefore require all parents to use parentpay to put money onto their child's account. This can be done in two ways:
Online via Parentpay.
At a paypoint using a Paypoint card.
If you need confirmation of your parentpay log in details, please email our finance team on finance@westfield-admin.co.uk
If you require a paypoint card to load money onto at local post offices, convenience stores and other facilities displaying the paypoint sign, please contact the finance team on finance@westfield-admin.co.uk by 31 July to allow time for cards to be ordered and issued.
Going home
At the end of the day we will allow students in Years 7 and 8 to leave a little early at 14.25 to reduce congestion at the gates. Students in Years 9 and 10 will leave at 14.30.
We will open three gates to allow students to exit site – two at the front of school, and one at the back of school near the tram stop.
Year 11s will stay for period 6.
Again, we strongly encourage students to walk or cycle home where possible. Those using public transport will need to wear face coverings and social distancing should be observed where possible.
We are currently in communication with the bus company, First, to ensure services can pick up at 14.30, and regarding the possibility of an additional service for Year 11s only at 15.45.
First week back
On the first week back in September we will be inviting students in Years 7 and 11 only to attend on Wednesday 2nd September. This will enable us to complete vital induction work with our Year 7s which has not been possible in person owing to lockdown.
We will then welcome back all students on Thursday 3rd September. Students will spend period 1 in form time getting their new planners, equipment and timetables, before beginning lessons period 2.
| Year group | First day back |
| --- | --- |
| Year 7 | Wednesday 2nd September – arrive by 08.40 |
| Year 8 | Thursday 3rd September – arrive by 08.40 |
| Year 9 | Thursday 3rd September – arrive by 08.40 |
| Year 10 | Thursday 3rd September – arrive by 08.40 |
| Year 11 | Wednesday 2nd September – arrive by 08.40 |
Thank you
Thank you to our students who have been working hard in very difficult circumstances during lockdown.
Thank you to all parents and carers who have been so supportive of their children, and us as a school during this testing time. We really appreciate your support.