Year 6–7 transition support
Transition during lockdown
We understand that transition from primary to secondary school can be a very stressful time both for parents and students. We now have the added stress of the effects of Covid-19. Currently schools are closed to the majority of students until further notice. However, the transition team are still working to ensure that this year's Year 6 cohort have a smooth transition.
You can find read about pages with information about travelling to school and what uniform and equipment you need.
transition video
Our new students may not be able to visit Westfield, but they can explore it via our transition video:
school guide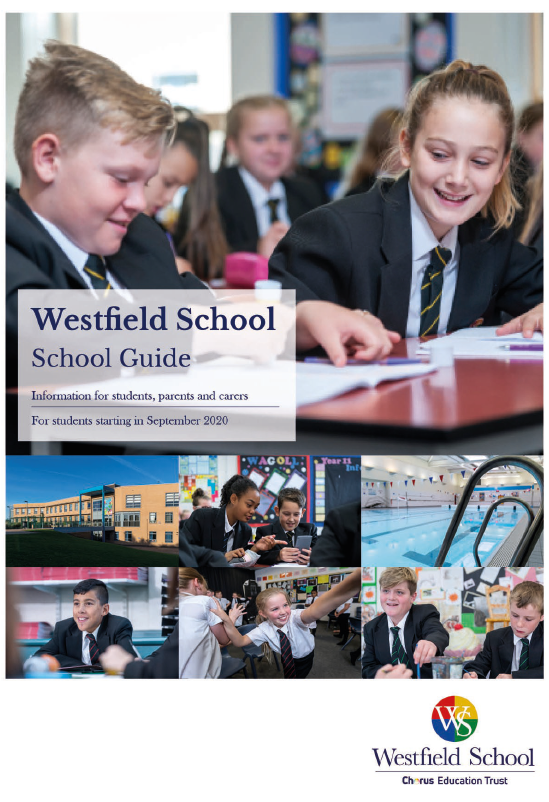 We have sent a printed version of this school guide to all families who are joining us in September 2020.
You can view a copy online here.
Transition activities June/July 2020
It is with regret that we have to inform you that, having considered the latest Covid-19 Government advice, we have decided to cancel all transition events planned at Westfield School this term. This includes the Welcome Evening scheduled for Thursday 2nd July and Transition Week scheduled for 13 - 17 July 2020. We know you will find this disappointing, as we do, but we are not in a position to run these events given the current Government advice on social distancing and class sizes.
As we are unable to offer physical transition activities at Westfield School, we have given thought as to how we can offer 'virtual' transition to Year 6 – Year 7 children and parents/carers within the current Covid-19 restrictions. We will shortly be providing via this webpage and via email:
A virtual tour of the school that introduces some key members of staff and answers some of the questions we have received from parents/carers and children.
Videos introducing staff and subjects at Westfield that also include some fun activities to engage in.
A School Guide, including a section on our SEND offer.
Video welcome messages from Year 7 Form Tutors.
In addition to this we are exploring with Primary colleagues what additional transition activities we can deliver whilst your children remain in Year 6. This may include physical or virtual visits by Westfield staff to feeder Primary School classes.
Welcome to Westfield School - Year 7 English
We have sent all families by email our Westfield School Year 7 English booklet. This outlines the English adventure that awaits you at Westfield School and includes some exciting challenges for children to engage with, that we hope will lead to some wonderful performances when they start at Westfield in September 2020.
If you would like a printed version of the booklet posting out, please contact Mrs Robinson via the email address below or by phoning the school.
Student data sheet
This was posted out to parents. Please complete the sheet and either post it to school or email to Mrs Robinson.
contacting the year 7 team
If you have any queries please email:
E.Hopkinson@westfield-chorustrust.org (Head of Year 7)
D.Robinson@westfield-chorustrust.org (Pastoral manager of Year7)
information for new parents
If your child has gained a place at Westfield you can also find additional information in our section for Current Parents & Students. This includes pages about uniform, equipment and behaviour.
You may also find it useful to read the document, Secondary Success (a survival guide for parents starting secondary school), which was put together by current parents in our Friends of Westfield School group. They have also created a Jargon Buster which you may find useful.
resources
Please click here to view our latest E-Safety video