Exams
Information for Students, Parents & Carers for Summer 2021
Teacher Assessed Grading Decisions, Quality Assurance, Results & Appeals
How are my grades determined in 2021?
Teachers will be using professional judgement to determine your grades from a range of evidence based on the content you have been taught over the entire course of your studies, and by following the guidance issued by the exam boards and Ofqual. Links and guidance to the information are available at the end of the document.
Types of evidence used:
We will be using student work produced in response to historic and current assessment materials provided by our awarding organisation(s), including groups of questions, past papers or similar materials such as practice or sample papers.
We will use non-exam assessment work (often referred to as coursework), even if this has not been fully completed.
We will use student work produced in centre-devised tasks that reflect the specification, that follow the same format as awarding organisation materials, and have been marked in a way that reflects awarding organisation mark schemes.
We will use internal tests taken by pupils.
We will use mock exams taken over the course of study.
We will use records of a student's capability and performance over the course of study in performance-based subjects such as music, drama and PE.
Although assessments taken earlier on your courses will be used to support grading decisions, a large part of the decision making process for teacher assessed grading decisions will focus on current and most recent internal assessments completed during the summer term 2021. The exception to this may be vocational qualifications for which banked grades and assessments may form a significant portion of teacher assessed grades.
Your teacher will inform you of the various pieces of work or assessments that form the evidence that will be used in the determination of your overall grade. Your grade will not take account of your potential but will be based on your performance in a wide range of evidence. You will not be told the grade that will be submitted to the exam board.
Ofqual has issued separate guidance on the submission of grades and the evidence used and the Westfield Centre Policy has further details in our approach to awarding grades in summer 2021.
Reasonable adjustments
Assessments have taken place under test conditions in school and if you require reasonable adjustments these will have been put in place for all your assessments contributing towards your final grade. Further information is available in the Westfield School Centre policy.
If you have any questions, please do not wait until after results day.
Quality assurance
Your grades will be reviewed using both an internal quality assurance process in school as well as an external quality assurance process by the exam boards.
Autumn series
Students who receive a teacher assessed grade this summer will be eligible to take GCSE exams in the same subject in autumn 2021.
Ofqual has also decided that:
Exams will be in their normal format, with no adaptations made.
Grades will be determined by a student's performance in an exam for all subjects, except for art and design qualifications.
GCSE exams will take place in November and December.
The exams will assess you in the same way as had been planned for exams in summer 2021, including assessing you on a reduced number of topics for GCSE English literature and history.
If you get a higher grade in your autumn exam than you get this summer, then you can ask the exam board to provide a new certificate showing your higher grade.
Results Days
Results day will be the 12 August 2021. Please see here for detailed information about when to arrive. Further details will be communicated if there is any change in the public health circumstances. Please ensure you are checking the school website and Twitter accounts for publicised information.
Certificates
Certificates will be available for collection from mid November 2021. Depending on the public health situation we will endeavour to hold a celebration evening. Please ensure you are checking the school website and Twitter accounts for further information.
Appeals
Given the hard work that students have put in we hope they will be happy with their grades, however we recognise that some students may not be. If you're disappointed with your grade you might consider whether you could sit exams in the autumn series (November/December 2021) to improve your grade.
If you are concerned that the grade you have received is not an accurate reflection of your assessed work, there is an appeals process. Please refer to figure 1 for a flow chart of the process. Historically where students have been disappointed with their grades, we have been able to resolve this during the centre review in stage 1 of figure 1 on the following flowchart.
If you appeal, your grade could go up, down, or stay the same. To raise an appeal with us you will need to complete an appeals form. For the online form please follow this link or hard copies of the appeal form will be available from reception. The appeals window will be from Monday 16th August until Friday 10th September: grading appeals must be submitted in this timeframe. We will respond within 7 days to arrange an appeals discussion.
If you have any questions, please contact either Mr Griffiths or Ms Campbell.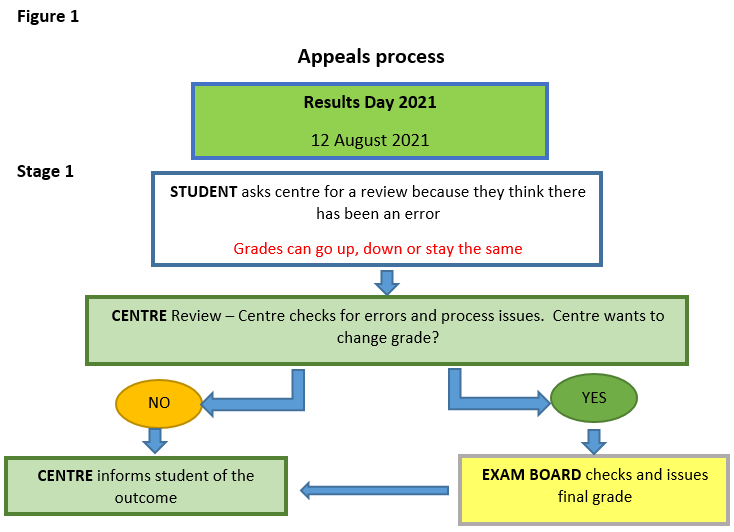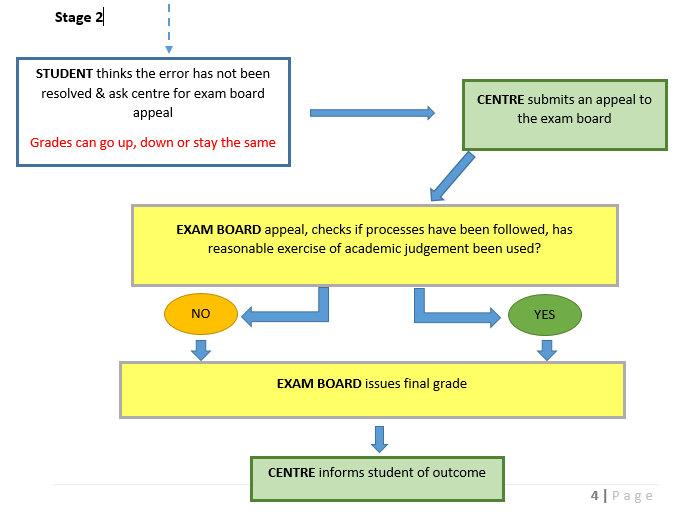 Links
Ofqual
Student guide to awarding: summer 2021
https://www.gov.uk/government/publications/student-guide-to-awarding-summer-2021/student-guide-to-awarding-summer-2021-html
https://assets.publishing.service.gov.uk/government/uploads/system/uploads/attachment_data/file/986351/21-6780_Student_guide_to_awarding_in_summer_2021_-_accessible.pdf
Information for schools on the submission of grades
https://www.gov.uk/government/publications/submission-of-teacher-assessed-grades-summer-2021-info-for-teachers/information-for-heads-of-centre-heads-of-department-and-teachers-on-the-submission-of-teacher-assessed-grades-summer-2021-html
Westfield Centre Policy
Please click here to view the full policy.
JCQ
JCQ Guide to special consideration – Summer 2021
https://www.jcq.org.uk/wp-content/uploads/2021/04/Special-consideration-%E2%80%93-Summer-2021.pdf
https://www.jcq.org.uk/wp-content/uploads/2020/09/Guide_to_spec_con_process_2021_FINAL.pdf
JCQ Guidance for students and parents for Summer 2021.
https://www.jcq.org.uk/wp-content/uploads/2021/03/JCQ-Guidance-for-Students-and-Parents-on-Summer-2021.pdf
Exam board websites
Please click here to view JCQ's video regarding no mobile phones in exams
exam tips

Exam regulations