Teaching and learning
At Westfield our vision is for outstanding achievement for all.
To achieve this, we must ensure:
all lessons engage, support and challenge all students to make rapid and sustained progress.
all teachers have a shared understanding of what constitutes outstanding teaching and learning.
The Teaching and Learning Policy was redeveloped for 2017/18. The focus is on incorporating teaching principles that we believe encourage and will engage students in higher thinking and learning.
We have followed the DRICE educational model for this, which has been used nationally to escalate pupil progress for all students. At Westfield, teachers will aim to provide learning opportunities that: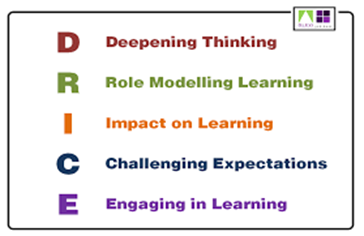 By following this model, we have developed and instilled key principles of teaching and learning that as staff we aim to follow every day. More information regarding these can be viewed on the Teaching and Learning Policy.
By ensuring engaging and valuable learning experiences, we will ensure all pupils make rapid and sustained progress. In order to ensure this happens in every lesson, we have focussed more clearly on 6 key aspects of outstanding Teaching and Learning. These are –
Planning - At Westfield we must ensure that learning objectives and clear and differentiated learning outcomes are present in all lessons.
Engaging Activities - At Westfield we believe students should be engaged by the lesson as soon as they arrive at the classroom.
Modelling - We will role model learning processes to enable students to apply knowledge effectively and challenge themselves within learning tasks.
Application of knowledge – Pupils need to apply knowledge. The tasks will deepen knowledge and challenge students to meet or exceed their targets and should allow for progress to be measured through AFL strategies in place.
Challenge - Lessons at Westfield will embrace challenge, with students being consistently pushed to make outstanding progress.
Assessment for Learning - We must enable students to reflect on current progress and drive the understanding of how to make further progress through effective use of AFL (Self, Peer, Questioning).